Pathways

Psalm 23 is a description of life's journey that celebrates the delights of 'green pastures and still waters' and also acknowledges the realities of walking through the 'valley of the shadow of death'. When we gathered together, we made pathways and used pictures, drawings symbols and words to make visual representations of the hopes and promises of this Psalm.
David was an ancient Hebrew king who wrote these words; his story is one in which he encountered great privilege, but he also had huge struggles facing disappointments with himself and also those that he thought were friends. The famous song
Halelujah by Leonard Cohen
contains echoes of many of those struggles and disappointments. It reminds us that we can know God in all the realities and challenges of our own lives.

God's promise to us is not that life will always be full of still waters and green pastures, but wherever we walk and whatever we experience, God will always be with us.
This contemporary version of Psalm 23
, written by Stuart Townend reminds us of this. You might use it for your own reflection and prayer.

We thought about our own life journeys. Gathering for Faithspace is when our pathways cross with each other's but we also seek and sense God's presence as we come together. Like David our lives can be a mix of joy and struggle, celebration and fear, shadow and dread and like David we can know God's care, protection and guidance.

We used wooden figures to represent ourselves and which of the images and experiences of Psalm 23 were most like those we are facing. We also used the figures to remind us of others that we wanted to pray for and the situations they face.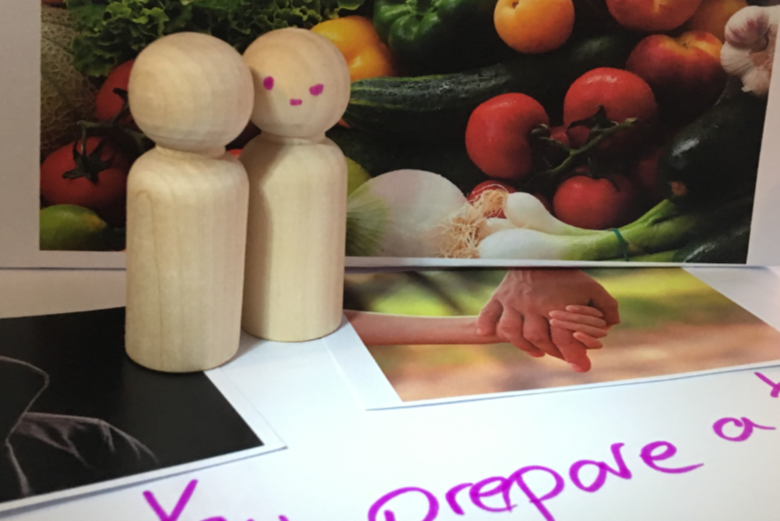 You can click here for some other FaithSpace reflections on the cross
Click here for our reflections on words
Click here for our reflections on memories
Click here for our reflections for Advent
Click here for 'What's on your plate?'
Click here to return to home page